Where can we see the: Next Show
Home Page Press Clippings Look A Like Laughs Hear It Now
This Month's Photos Photo Galleries
[ Home ] [ Links ] [ Press Clippings ] [ Look-a-like Laughs ] [ Next Show ] [ This Month's Photos ] [ Music ]
GEORGE ORR
A vocalist who looks and sounds like Rod Stewart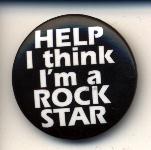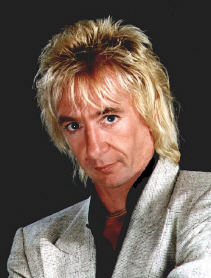 " I'm NOT Rod Stewart. If you wake up with me tomorrow, don't ask..... 'Where's the Ferrari?' "
George Orr started his professional singing career at the age of fourteen and by his 19th Birthday he was recognized as the hottest lead singer throughout Scotland and had signed his first recording contract.

Unknown to George at the time however, was the fact that he is probably the only person in the world who looks, sounds and moves so much like Rod Stewart that even Rod's friends have been fooled.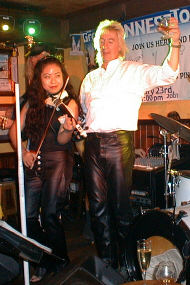 George moved to London with the aim of taking his singing career to the top. He had numerous offers to sign recording contracts, with companies thinking that his Rod-like voice would be a great addition to their label. When George entered their offices, however, he was turned away, "We can't use you because you look exactly like Rod too!"
George continued as a musician but as Rod became more famous George was frequently accused of trying to imitate him. Finally, in desperation, George gave up singing and became a very successful Photographer and writer. Then one night at a bar on Miami Beach a strange thing happened. George told me what had taken place...
"I had just finished a photo session and I took the crew and models out for dinner. Unfortunately the only table available was right in front of the band. As we sat down the band saw me and made a joke, asking if "Rod would like to get up and sing?" Then they started to play the introduction to Maggie May. One of the models, who I was trying to impress, said, "Wouldn't it show them if you got up and you could sing." So I jumped onto the stage and gave them a performance that only Rod himself could have bettered. The crowd went wild and, as I came off stage, a guy in a suit thrust his card into my hand saying he wanted to put me under contract and pay me a lot of money. Finally I could use the gift of my voice and I could enjoy the fact that I look like Rod Stewart."
The Hot Rod Show is now swamped with offers to play throughout America and George is regularly pursued by the big shows in Vegas. Audiences go crazy as George transports them back to the wild days of the 1980's; women swoon as he sings the love songs of the 1990's and club owners vie with each other to sign up the show. As George himself once joked on stage, "The only way this could be any more real.... is if you lined up for four hours and paid seventy dollars for a ticket"
Neil Blincow, Palm Beach Press
(Hey Neil, did you put in that bit about how good looking I am?) Venues
History lesson from
http://www.falkirkmusicscene.co.uk/
Act from 1970 featuring George Orr (guitar, ex-Sun), Des McCafferty (bass, ex-Cargo), Matt O'Neill (guitar) & Jim McGeachie (drums) who played at an open air concert in Callander Park that summer. Later that year they supported The Dream Police at Falkirk Town Hall, and then continued to gig into 1971, when some members went on to form Perhaps Boogie.
Hog Farm played The Barrowland, Burn's Howff, The Picasso, The Watermill Hotel in Paisley, The Place in Edinburgh, La Bamba in Falkirk. They toured Scotland for Brian Adams and the I.C.E Agency, and appeared regularly on Radio 242's magazine "Showbeat Monthly" and "Transplant" a teenage fan mag. In their time Hog Farm performed with bands such as The Pathfinders, The Marmalade, The House of Lords, The Writing On The Wall (for whom George Orr co-wrote a song, which was recorded as a B-Side), Studio Six, Agatha's Moment, Beggar's Opera, Chris McClure, The Senate, The Dream Police, The Beat Stalkers, Maggie Bell and Stone The Crows, The Poets, The Stoics, Bay City Rollers, Trash, Black Sabbath, Thin Lizzy, Skid Row, Rory Gallaher and Taste, Middle Of The Road, The cast of Hair, The Who, Nazareth (every month, when they were the Kinema Showband in Dunfermline), Slade, Jack Bruce, and many, many more.
A new line-up of the band formed in 1973 featuring Orr, Matt Allan (drums), Cosmo Vericho (guitar, ex-Merlin) & Gerry Riley (bass, ex-Telephone). Orr went on to become a photographer for most of the national British newspapers as well as "National Enquirer" in the U.S.A. He is also an alumni of the "World Martial Arts Hall Of Fame" for his work with American Police Forces and has black belts in four martial arts (5th Degree JuJutsu, 4th Degree Judo, 1st Degree Kung Fu, 1st Degree Kendo). In recent years he fronts a Rod Stewart tribute act, The Hod Rod Band in the United States.
e-mail George at: George@georgeorr.com
The funny things that happen when you look like Rod Stewart
To view George's photography. Click Here: Photography
Where can we see the: Next Show
Home Page Press Clippings Look A Like Laughs Hear It Now
This Month's Photos Photo Galleries
[ Home ] [ Links ] [ Press Clippings ] [ Look-a-like Laughs ] [ Next Show ] [ This Month's Photos ] [ Music ]