[ Home ] [ Links ] [ Press Clippings ] [ Look-a-like Laughs ] [ Next Show ] [ This Month's Photos ] [ Music ]
NEWSPAPER CLIPPINGS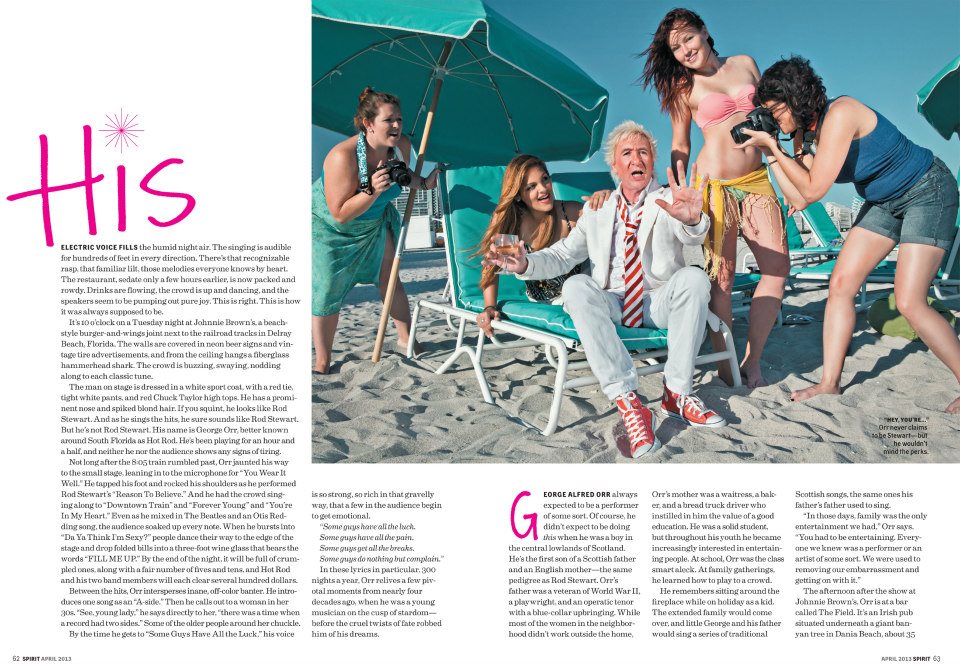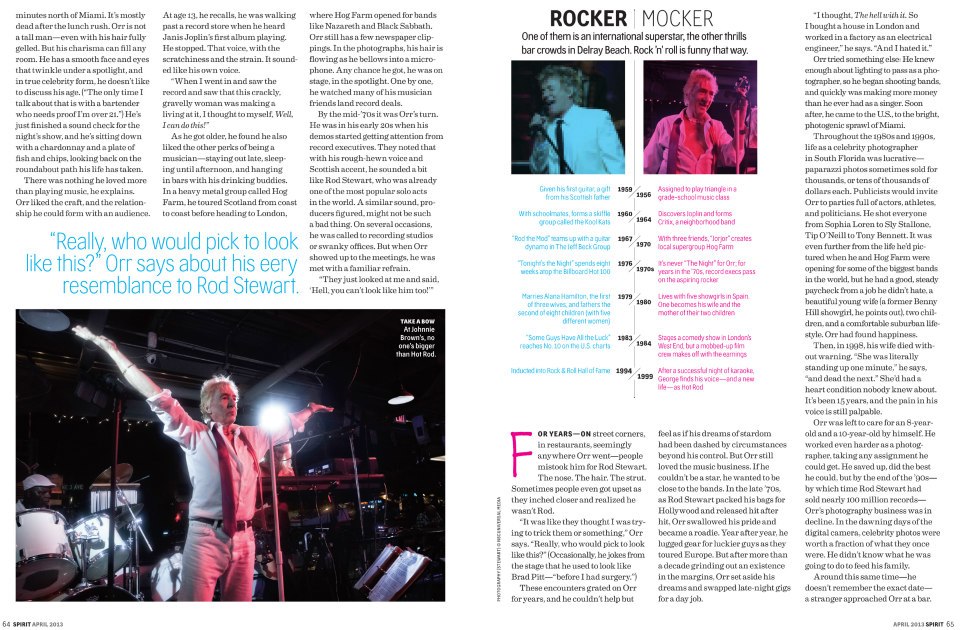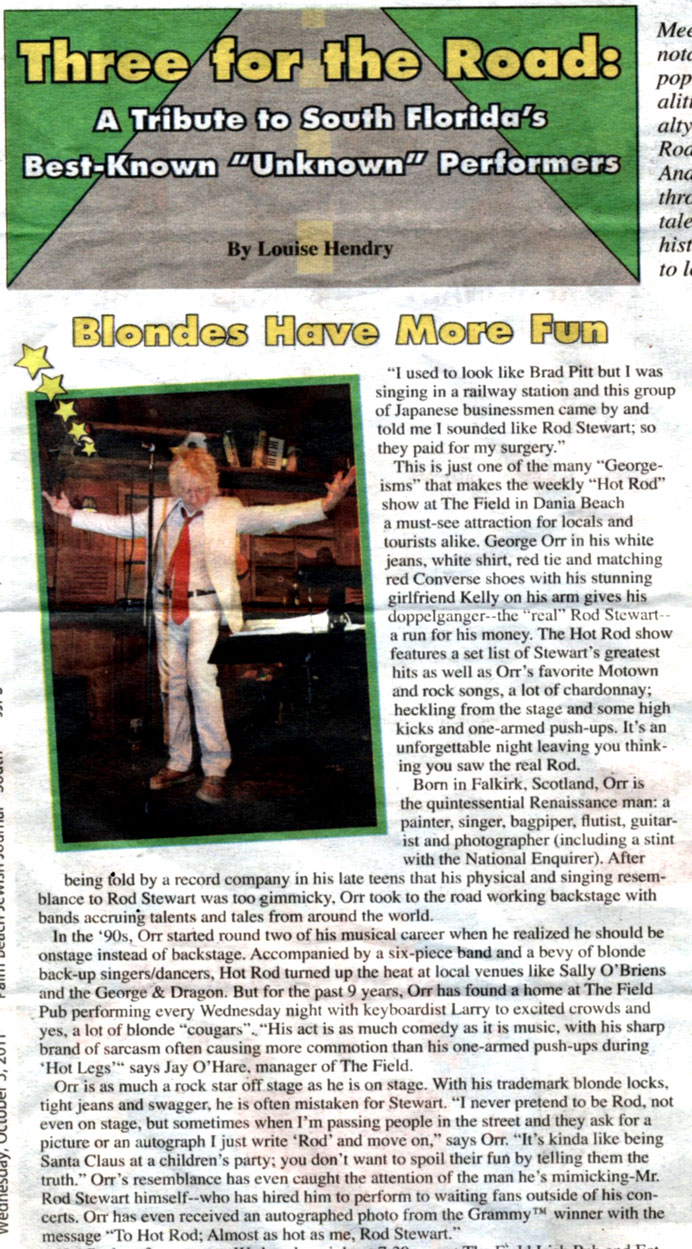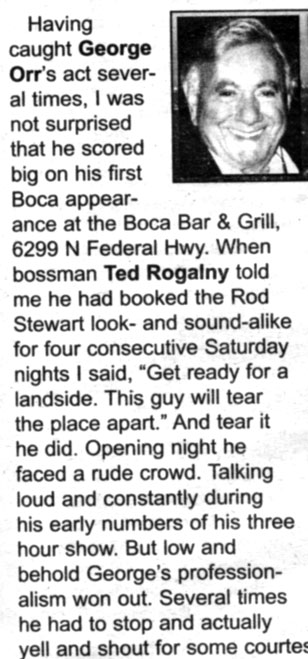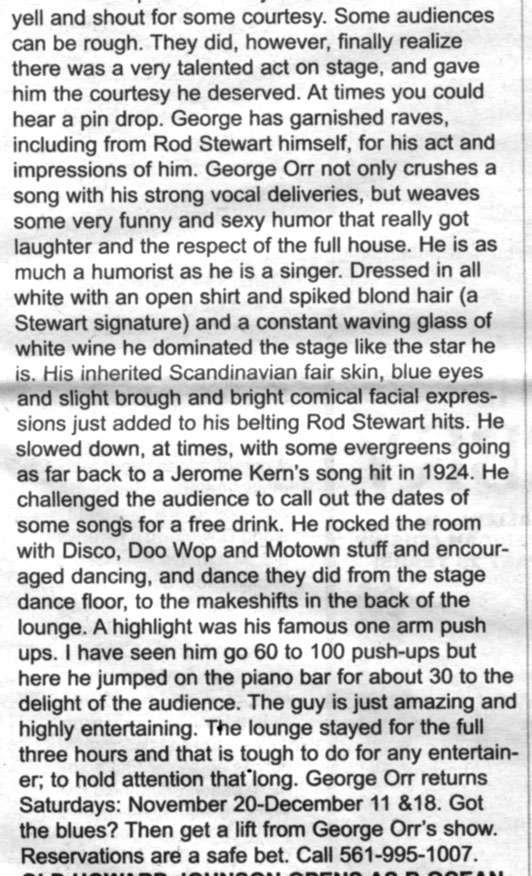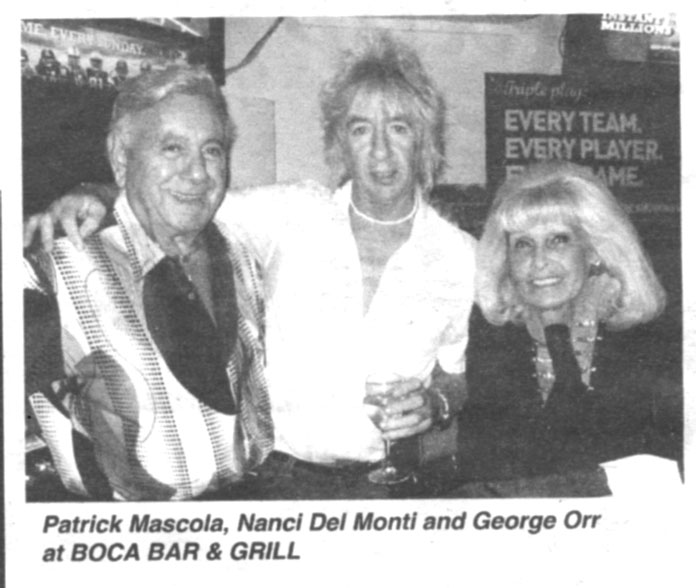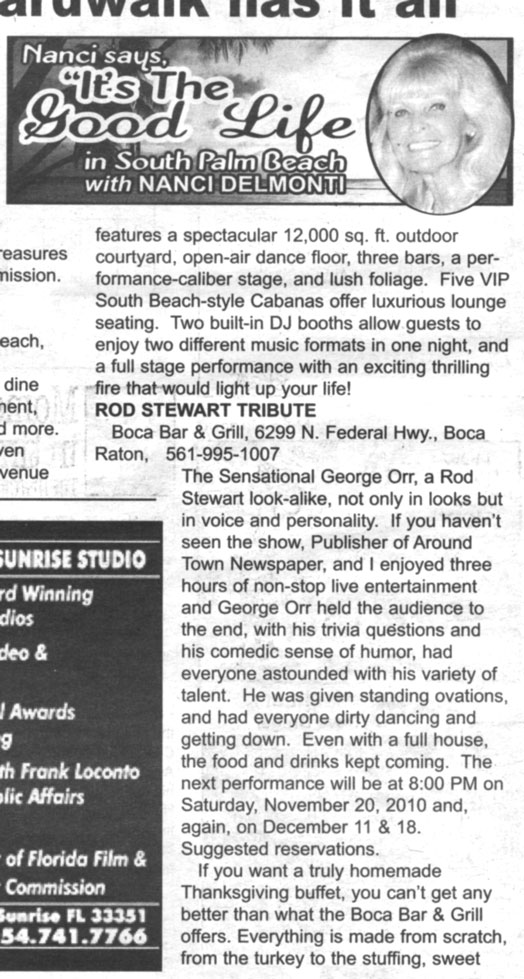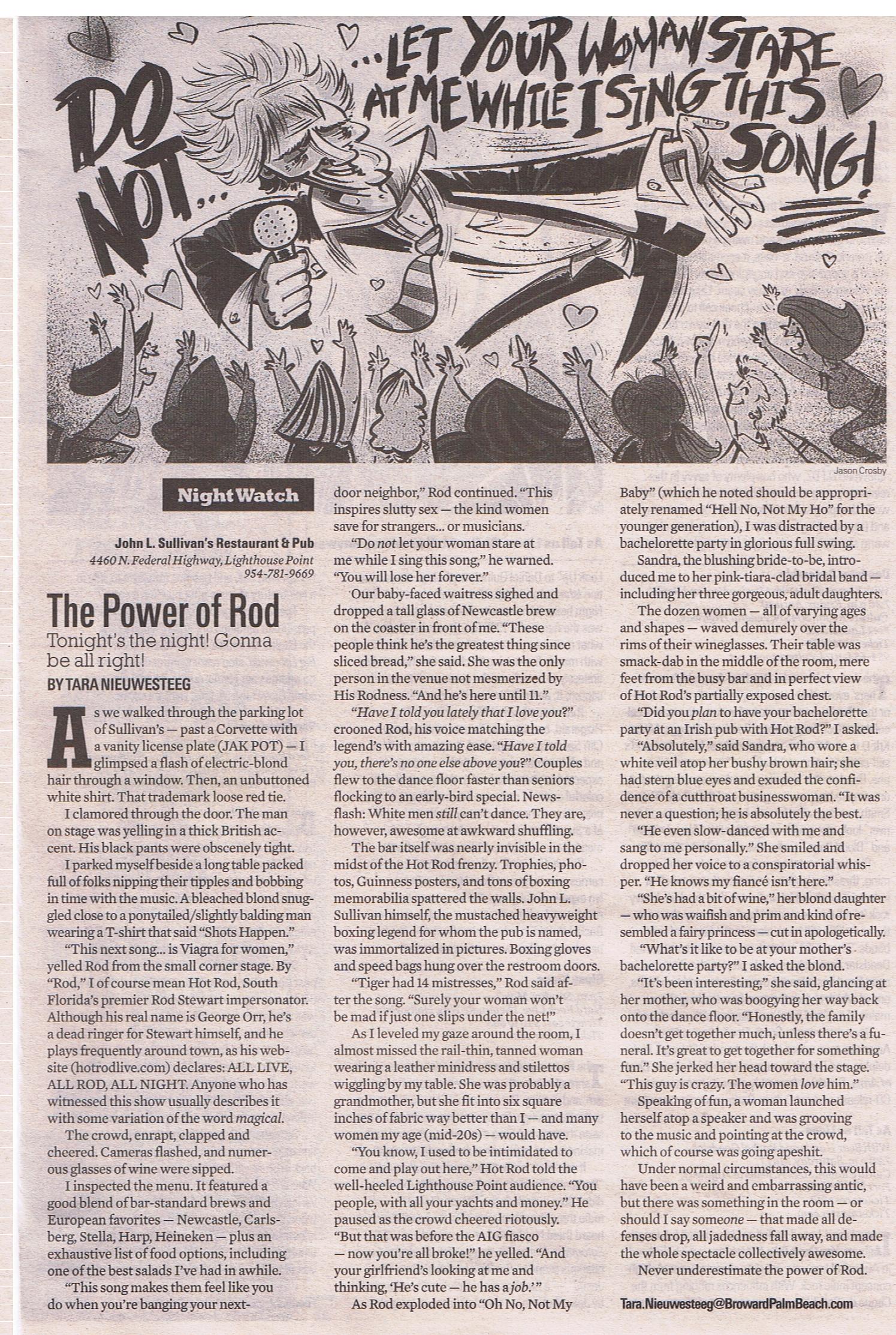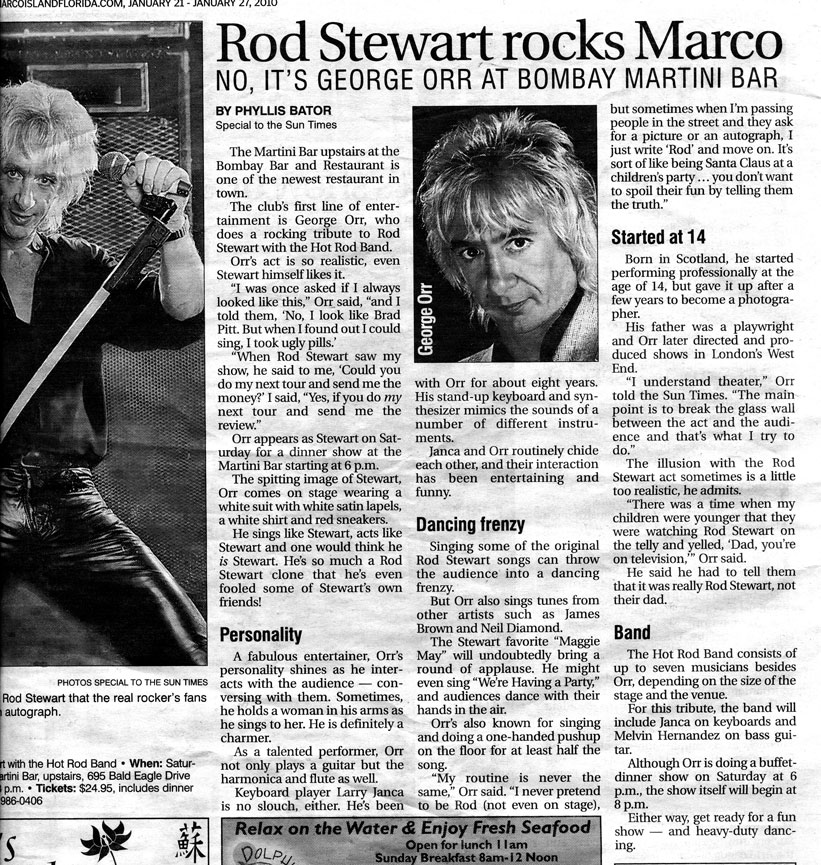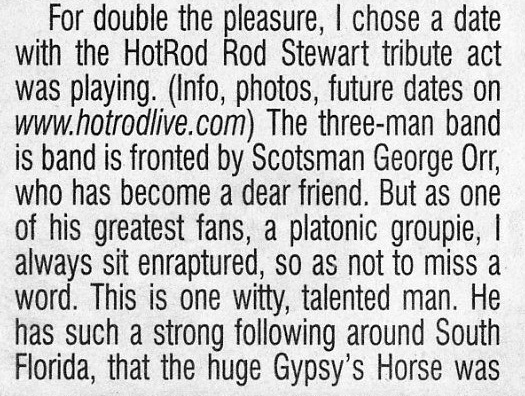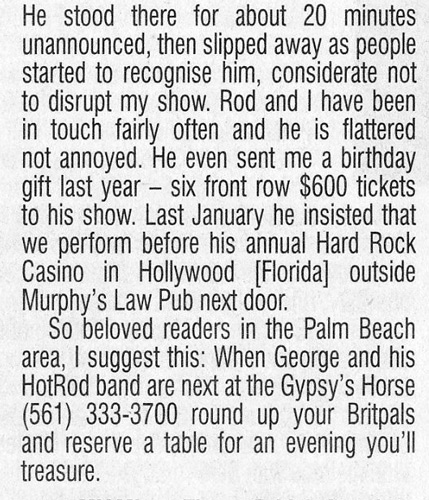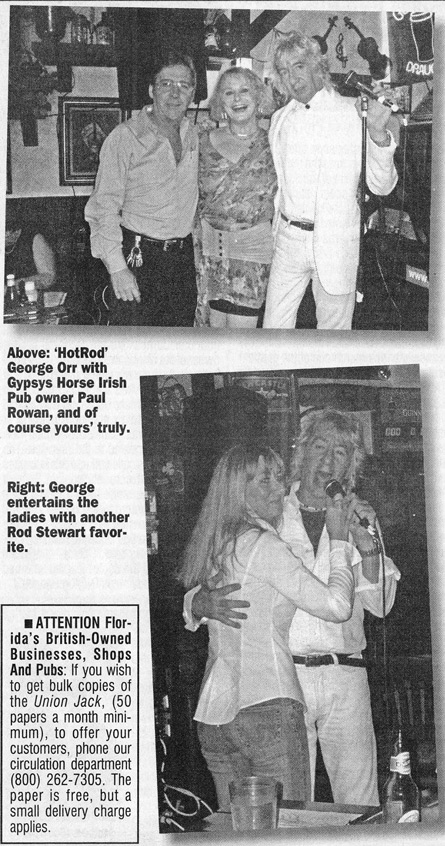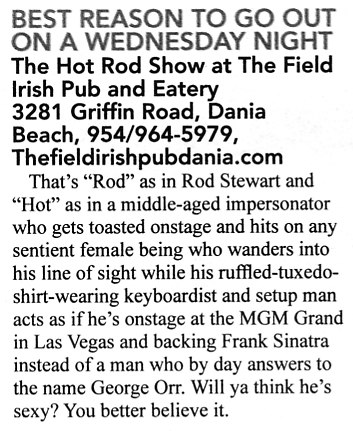 City Link Magazine "Best of 2007" issue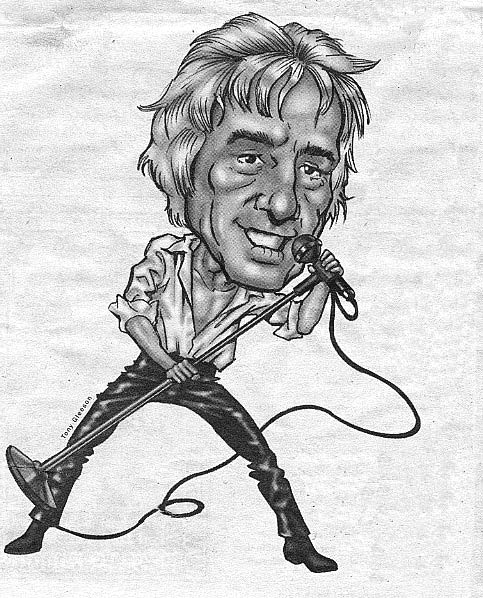 Hot Rod in New Times by Tony Gleeson
Quotes from Marya Summers, in the latest issue of New Times. 03 Jan 2007
"His vocal impersonation was dead-on"
"His looks were a reasonable facsimile"
"Some people seemed to be enjoying themselves quite a bit"
"FAU students and bar regulars were having a shamelessly good time"
"Does this guy ever take a break?"
From a humorous article about two 'mean-spirited' girls who go to a
Hot Rod Show to drink beer and try to pick up cute guys.
Other worthwhile quotes were:
"He danced", "Nipples", "Gulps of chardonnay", "Boobs".
"They even asked me "Did you always look like this?" I said "No I looked like Brad Pitt but when I found I could sing I took ugly-pills"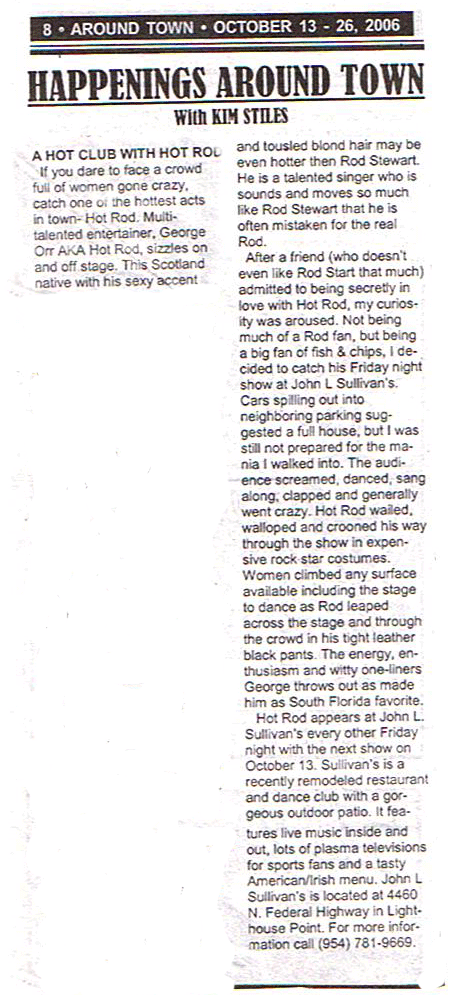 The Island Hopper: Ringer for Rod
Rock-star allure is only one reason why George Orr's dead-on impersonation of Rod Stewart makes for a memorable evening
By TIFFANY YATES, Special to the Islander
November 26
George Orr was born to be a rock star.
Not because he looks, sounds and moves so uncannily like Rod Stewart that he'd be easily mistaken for him — though he does.
Not necessarily because he's a talented singer who has excellent vocal control, while still letting his voice roar out all over the musical map — which he is.
No, I give Orr this title because the man has the rock-star MO down pat: onstage charisma, great audience rapport, hilarious between-song patter and an enjoyment of the whole thing that is so evident, you can't help but be caught up in it.
Think I'm being hyperbolic? How's this: Orr and his partner, keyboardist and singer Larry Janca, offer one of the most polished, professional, enjoyable evenings I've seen on the island.
Ever.
Here's the background: I knew all week I would be covering Orr and Janca at Blú Fusion, and I wasn't really looking forward to it. Tired old Rod Stewart songs, I thought, and some cheesy impersonator. Ugh.
Well, shut my mouth. I've been hearing raves since the two started playing Blú Fusion, where they appear once a month, and on Nov. 20 they played to a packed house. I had what I needed for my column more than an hour before I finally left — but I hated to tear myself away from what had become, very soon after the show began, a party that included the entire restaurant.
Orr claims never to have seen Rod perform, never to have even heard his CDs until he was "discovered" as a look-and sound-alike just over four years ago. He was a successful singer in his own right in his native Scotland (before his resemblance put the kibosh on a career) as well as a professional photographer and a martial artist.
He and Janca also have a six-piece band with which they do the Rod show for larger venues, but all by their lonesome the two present a smashing good time. There's synth and canned music, sure. But I swear — and knowing how I feel about tracks, you can believe me — it's not that you forget, but you DO NOT CARE.
Janca, I suspect, is a hell of a keyboard player. The playlist requires that he use plinky, thin effects like electric guitar and violin, but did I mention YOU DO NOT CARE? His fingers dance over the keys in what would be impressive solos on a baby grand. He provides harmonies for Orr, as well as taking the lead on a few songs, such as Key Largo and Smooth.
And Orr ... folks, I was half in love with him, and I don't even like Rod Stewart all that much!
You get your Rod, oh, yes — you get your Maggie May, your Do You Think I'm Sexy, your Hot Legs.
You get the love songs: The First Cut is the Deepest, the haunting and sad I Don't Want to Talk About It, Have I Told You Lately That I Love You.
But wait, there's more! You get old torchy songs (which I love): Until the Real Thing Comes Along and As Time Goes By — sung very, very well. You get Motown: Ain't Too Proud to Beg and This Old Heart of Mine.
And that's not all! You'll also see George Orr play the flute! You'll see him strum guitar! You'll see him twist nearly to the floor on the dance floor while surrounded by women, then drop into — I promise this happened — one-arm push-ups AS HE SINGS, for half the length of a song. Chicks dig him, as you can imagine, but come on, guys — can YOU do that many, even with a spotter at the gym?
And then there are his quick one-liners as the show builds to what Orr terms "a crescendo of fun."
On tips: "Please don't be a cheap weasel."
On audience participation: "Remember we are live tonight, and if you don't clap we can see you doing it."
On pyromania: "Wave your table candle for this song, and if you don't have one, just set fire to anything close to you."
The dance floor is jammed all night, but Orr still goes out into the crowd to solicit dancers, to sit in laps, to invite audience members (pretty female ones ...) onstage with him to sing backup. And all the while he sips Chardonnay, which he also shamelessly solicits from appreciative fans.
And all that, my friends, is why Orr should have been a rock star — a little thing called showmanship and charisma that separates the men from the boys and sets the Hot Rod Show, as they call it, well above the level of your average impersonation show.
Now, you pick up the phone right now and make a reservation for their next public appearance here — the weekend of New Year's Eve, Friday through Sunday. I'm not kidding — grab a group and come prepared to have dangerous amounts of fun.
Me ... I'll admit it — I came home and dug up my old CD box set of Rod Stewart songs. And don't mock me about it until you've gone and seen Orr and Janco and find yourself wailing out Hot Legs in the shower.
He wears it well



A couple of miles from the real Brit rocker, you'll find the S. Florida version

By Liz Doup
Staff Writer

Posted February 5



Hey, Rod! The real Rod Stewart ...

Now that you're headed south of your posh Palm Beach digs for your Broward concert Friday, check out your double.

He's doing your songs, your moves and sporting your blond, tousled looks in a tribute act playing Thursday nights at Fort Lauderdale's George and Dragon Pub.

But faux Rod -- aka George Orr -- is no slavish fan typical of so many impersonators channeling Elvis or Madonna.

Get this, Rod. He's never seen you perform live. Never even bought your CDs 'til he started this gig four years ago. For the faux Rod, a professional photographer and former musician who once played all over Europe, it's a job, helping him support his two kids.

You understand, Rod. You've got a small brood yourself. And even though you know you get 'em rocking in the aisles, faux Rod is no slouch in that department either. And no rock star ego!

Of course, you -- the real Rod -- can claim a gazillion fans. But faux Rod has fans, too. And you should hear this guy sing.

"I don't hate Maggie May," faux Rod says. "It sounds like ka-ching, ka-ching to me."

As for more comparisons ... well, we could go on and on.

So we did.

The real Rod Stewart

Home: An oceanfront Palm Beach manse, purchased for $7.2 million in 1995

Month of birth: January

Age: 59

Heritage: Father is from Scotland

Height: 5 feet 10 on a good hair day

Favorite sport: Soccer

Other jobs before rock star: Gravedigger

Favorite female look: Leggy blondes

Where he first noticed Rachel Hunter, a former wife: On her exercise video

Wives: two; Kids: five

Pre-Performance Drink: Rum and coke

Tattoos: Celtic knots

Recent Media: A Vanity Fair story spotlighting Palm Beach swells

How It Began: In the early '60s, he toured Europe with British folk singer Wizz Jones.

Jeff Beck connection: In the late '60s, Stewart hooked up with the Jeff Beck Group, doing heavy blues-rock.

The hit: Maggie May topped the U.S. charts in 1971.

From the fans: "One of the great rock singers of the '70s ... capable of both hard rock and deep emotion." From The Rolling Stone Record Guide.

Awards: Many, including membership in the Rock and Roll Hall of Fame

Latest songs: '20s and '30s classics, including Where or When and It Had to Be You.

Number of times he's seen faux Rod: Maybe, just maybe, once, Faux Rod says. "I heard he came into the Blue Anchor Pub in Delray where I was performing. They said he laughed and enjoyed it."

Ticket cost for Friday performance at Office Depot Center: $46.50-$96.50

The faux Rod Stewart

Home: A family-friendly, 3/2 in Hollywood

Month of birth: January

Age: "I'm not telling! It's like asking someone how fat they are."

Heritage: From Scotland

Height: 5 feet 101/2 "I wear cowboy boots."

Favorite sport: Kick boxing

Other jobs before rock star: Carpet remover

Favorite female look: Leggy blondes

Where he first noticed Leanne Robinson, his second wife and mother of their two children: "I was in London, photographing the album cover for her band."

Wives: three; Kids: two

Pre-performance drink: Chardonnay. "I drink it all day."

Tattoos: "I don't want a tattoo. I don't even like to live with wallpaper."

Recent media: You're reading it right now.

How it began: "I was dropping off a photography job at a karaoke bar. It was a slow night. The guy said, "Here's George to sing us a song." So I sang Rod Stewart's Reason to Believe. And some guys at the pool table yelled, "Rod's in the house."

Jeff Beck connection: Years ago, a friend was in a play with Trudy Styler, then Sting's girlfriend, now his wife. One night, they wound up at a club, along with Jeff Beck, where faux Rod and Beck jammed onstage for one song.

The hit: Thursday nights at the George and Dragon

From the fans: John Hunt, 54, from Liverpool, sitting at the George and Dragon bar: "He sounds just like Rod Stewart and he's funnier."

Awards: Many, from martial arts organizations

Latest songs: He sings 'em all. "But just because I look like the guy doesn't mean I know the words. I use sheet music. Nobody pays enough for me to memorize this stuff."

Number of times he's seen the real Rod live: Definitely, none

Ticket cost at the George and Dragon: No cover. Just treat yourself to some fish 'n' chips or bangers and mash and wash it down with Bass Ale.

Researcher Barbara Hijek contributed to this story.









Questions or comments? | Paid archives | Start a newspaper subscription | How to advertise | Privacy policy
Copyright 2004, Sun-Sentinel Co. & South Florida Interactive, Inc.



FORT LAUDERDALE, FLORIDA

Cheers Cheers 941 East Cypress Creek Road, Fort Lauderdale. 954-771-6337

The Hot Rod Show The Hot Rod Show returns Friday, 4th August. 8:30 PM. reservations recommended.

If you can manage to squeeze into this packed house of mainly excited women, you will catch one of the hottest acts in town before they are wisked off to Vegas or Atlantic City, where they rightfully belong. I caught this show when they did a one night stand in early January. The show opens with just the band, recreating the sound and feel of a sixties Soul and Motown club. They whipped the crowd into a frenzy and I began to pity the man who had to follow them. But even I wasn't prepared for what followed. The pulsing beat of "Get Ready" was smoothly replaced with the opening strains of "Hot Legs" and onto the stage, before my very eyes, strutted the King of Blue Eyed Soul himself, Rod Stewart. At least it looked like him and sounded like him but this was not him. This was British singer, George Orr, the man they call Hot Rod. And hot it certainly was as the band rocked and pulsated their way through almost every major Rod Stewart hit. The audience screamed, danced, sang along and applauded as if possessed. Hot Rod crooned, wailed, danced and sweated his way through a selection of expensive costumes and Armani suits. Women jumped up onto the stage to dance along side their look-a-like hero. The audience were aware that this was not the real Rod Stewart but they also realized that this was real excitement, real energy, real enthusiasm and excellent musicianship. I enjoyed George Orr's joke from the stage, "If this was any more real you'd have to wait in line for four hours and pay fifty bucks to get in." With audience reaction like this it might not be long before it's true.

By Chuck Whaley
MIAMI, FLORIDA

REPRINTED

The Hot Rod Show A must see for Rod Stewart fans. The show began with an opening act that impersonated the Long John Baldry, blues and soul band that spawned the spiky haired super star in the early sixties. Then Hot Rod, AKA singer George Orr, took the stage. There was some amusement as George danced his way to center stage and the audience recognized his physical resemblance to Rod Stewart but there was an audible gasp from them when he started to sing. There are very few people who can sing in the key that Rod Stewart sings in. George Orr not only sings in the same high range as R.S., but he has the same rasping, bluesy tone. I found out later that the British accent was genuine and that George is originally from Scotland. The band was extremely tight and showcased their talents on numbers like "Bad For You" without the boring over indulgences that we have come to expect from rock musicians. I am not usually a fan of Tribute or Look Alike bands but this show had pace, excitement, and a way of presenting their material that was fresh and fun.

Timothy Johnson
| | |
| --- | --- |
| | |
Florida Weekly 2014
celebrity impersonators
Ever wonder what it must be like to be trapped in the body of a star?
BY NANCY STETSON
George Orr, left, performs a comedic tribute to Rod Stewart, right, and is often mistaken for the star when not on stage. WHAT DO YOU DO WHEN YOU LOOK IN THE MIRROR AND SEE THE FACE of someone famous?
Some take advantage of this genetic fluke and pursue a career as a celebrity lookalike.
But looking like someone most of the world recognizes from the movies or music videos can be a double-edged sword.
"The thing with me is, I have to wear this hair all day," says George Orr, a Rod Stewart lookalike, complete with his chopped-with-a-hedge-cutter hair. "It's not easy being someone who looks like someone else."
Of course, on-stage, when he's performing Rod Stewart's songs, it works to his advantage.
But off stage?
"Off stage it's hell, a living hell," Mr. Orr says. "People walk up to me on the street, in a hotel, wherever, and say, 'Oh Rod, would you sign this for me?' And if I say, 'No, sorry, I'm not Rod,' you'd think I'd just poked them in the eye. They get upset.
"I did not have facial surgery and stand here on the street, waiting for you to come by and be fooled by me. I just happen to look like him.
"I'm terribly sorry, but I'm trapped in the body of a handsome rock star."
Mr. Orr is joking.
Maybe.
Or maybe not.
Many of his comments are tongue-incheek, and he has a reputation for being a little naughty in his shows.
He doesn't mind if someone comes up to him and asks if he's Rod Stewart.
"It's the people who get upset; that's not right," he says, adding that he's happiest in the places where people know him.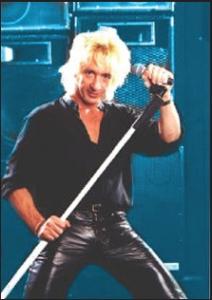 Left: George Orr as Rod Stewart. "They know me all over the country now," he says. "The Southwest Airlines in-flight magazine did a four-page article on me, with lots of pictures, almost a year ago."
People in South Florida, on both coasts, also know him. Mr. Orr, who has homes in Miami and West Palm Beach, performs on that coast.
He's performed at country clubs on the gulf side and was a regular act at the Sandy Parrot Tiki Bar & Grill in Fort Myers before it closed. He plays at The English Pub in Naples the first Saturday of every month.
His act is somewhat comedic, he says.
"I pretend to be egotistical and upset and a little tipsy," he says. "I tell people how much I hate the job, that I look and sound like a guy who's a million-dollaract, (but I'm) ignored by people in pubs. But he refuses to make fun of Rod Stewart's songs.
"I know there's somebody out there in the audience who loves the song, believes in the song. It means something to them. I don't mess with the songs."
When he was a teenager in his native Scotland playing Led Zeppelin and heavy metal, a man came up to Mr. Orr and told him he looked and sounded like "a guy in the Jeff Beck Group." Mr. Orr wrote down the name: Rod Stewart. People kept telling him that.
He did various jobs working as a roadie for The Troggs and Manfred Mann. He took photos backstage and sold them to newspapers. In the U.S. he worked taking celebrity photos for The National Enquirer. Ten years ago, while delivering headshots to a man in a Fort Lauderdale bar, he was coaxed onto the karaoke stage to sing "Reason to Believe."
"The entire pub stopped and looked at the stage and people were shouting, 'Rod's in the house,'" he says.
Afterward, a man gave him his business card, told him he booked the acts for Carnival Cruise Lines, and wanted to book him.
"It built and built and built," he says.
Mr. Orr looks like a somewhat more refined version of Rod Stewart.
"It's uncanny (the resemblance)," he says. "My mole is on the opposite side of my face; mine is on the right, his is on the left. I look more like Cindy Crawford," he jokes. (Actually, Ms. Crawford's famous mole is also on the left.)
The two singers also differ in otherways.
"He's shorter than me, he's older than me, he's not as good-looking," Mr. Orr says.
But the real Rod Stewart has come to see him perform twice in a little pub in Delray called The Blue Anchor.
"His staff — his cook, valet, driver — had come to see us, and they dragged him in," Mr. Orr says.
Rod Stewart even hired them to play outside a stadium where he was performing. The real Rod Stewart was going to highlight songs from his new album; he had Mr. Orr and band play his old hits outside, before the show.
He then gave them third row center seats to see him perform.
Amazingly, it was the first time Mr. Orr had seen Rod Stewart perform in person.
This months photos: This Month's Photos
Where can we see the: Next Show
Home Page Press Clippings Look A Like Laughs Hear It Now
This Month's Photos Photo Galleries
[ Home ] [ Links ] [ Press Clippings ] [ Look-a-like Laughs ] [ Next Show ] [ This Month's Photos ] [ Music ]